So I decided to try this free little blog thing.  Thought it would better allow me to ramble on about things no one cares to know on Youtube. It feels more intuitive being able to directly refer to what I'm talking about with pictures and stuff.  We'll see how it goes.  No one will probably read this anyway.
---
Eclipse Power Tracker 
People seem to like it.
.I used some very advanced techniques consisting of:
A super quality in-game screenshot of the EclipsePowerPlus addon
My unquestionable Photoshop skills to bend it
layers of deceptive WeakAuras wizardry
Here was the initial test phase products, which turned out okay.  Then I realized that white diamond thing in the middle would be in the way and there wasn't a mode without it.  So I had to start over.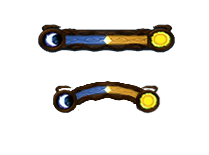 ---
 Breakdown of the process:
I still want to add some effects to indicate the spell damage buffs.  Haven't quite gotten the hang of what all the symbols mean yet.
I'll probably hold off on uploading it until I get around to asking the original addon author if it's cool to re-use his work.  Seems like the right thing to do.